Five Premieres and a Finale
Got a few TV things that I'd like to discuss today… A while ago I blogged about Amazon Unbox on TiVo. Of course, I never actually used the service until just last week. I noticed that Unbox had a number of fall television premieres available for download. For free…
Big Bang Theory premieres Mon 9/24 7:30c on CBS
Big Bang Theory is a harmless half-hour sit-com about a smoking hot stereotypical dizzy blond who moves across the hall from a pair of MIT uber-geeks. Actually, the geek humor is pretty damn funny and the budding puppy love that one of the geeks has for his new neighbor is extremely cute. So, this series is probably doomed.
Chuck premieres Mon 9/24 7:00c on NBC
I think Chuck could be a hit. Coincidentally, it's also about a geek who's life changes after he meets a smoking hot blond. Chuck is a life-long underachiever who accidentally has all of the government's extra-super top secrets uploaded to his brain. So obviously, Chuck teams up with the blond spy to help save the world, one episode at a time. Good stuff.
Bionic Woman premieres Wed 9/26 8:00c on NBC
I've been looking forward to this one, because of its shared parentage with Battlestar Galactica. As with BSG, the original bionic lore has been updated and twisted a little bit. OK, a lot. The first episode was interesting, but awkward. It tried a little too hard to be as cool as Galactica. I'll keep my eye on this one. We'll see…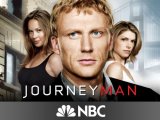 Journeyman premieres Mon 9/24 9:00c on NBC
I think this has potential, but probably won't last. Journeyman is about a man who takes, uh, journeys. Through time. So he can help people. I know, I know… You're thinking Quantum Leap. And you'd be right. But there are differences, and the tantalizing hint of an interesting mythology, which is where the potential come in.
Life premieres Wed 9/26 9:00c on NBC
Life is good. This show is about a detective just released from a maximum security prison after DNA evidence proved that he didn't commit the heinous crime. With millions from a huge settlement and high motivation to return to the job (and find out who framed him), the main character is quite the character. I hope this one makes it.
Burn Notice new episodes June 2008
Finally, if you enjoy kick-ass spy action with a healthy side of humor, you should be watching Burn Notice on USA. Unfortunately, if you haven't caught it yet, you're a little late… As I type this, the two-hour season finale is on. The Season 1 DVD will be a must-have for me. Have to wait until next summer for Season 2. D'oh!
Enjoyed reading this post?
Subscribe to the
RSS feed
and have all new posts delivered straight to you.